UNS N08330
ASTM B 536, B 511, B 512, B 535
B 536, B 546, B 710, B 739
Forms of 330 Stainless Steel available at Mega Mex
Sheet
Plate
Bar
Rod Coil
Threaded bar
Pipe
Hex Nuts and Washers
Expanded Metal
Welding Wire and Coated Electrode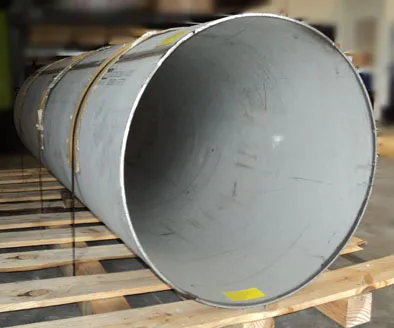 330 Stainless Steel Overview
330 steel is an austenitic heat and corrosion resisting alloy that offers a combination of strength and resistance to carburization, oxidation and thermal shock. This alloy was designed for applications in high temperature industrial environments where good resistance to the combined effects of carburization and thermal cycling are required, such as the heat treat industry. Carburization and oxidation resistance to about 2100°F are enhanced by the silicon content of the alloy. 330 stainless remains fully austenitic at all temperatures and is not subject to embrittlement from sigma formation. It has a solid solution composition and is not hardenable by heat treatment. The alloy's strength and oxidation resistance at high temperatures make it a useful material for industrial heating furnaces.1.
Mega Mex supplies Type 330 stainless in the form of pipe, plate, sheet, bar, welding wire, welding electrode, expanded metal, hex nuts, washers, and threaded bar.
What are the characteristics of 330 Stainless?
Oxidation resistance to 2100°F
Resistant to carburization and nitriding
Resistant to thermal shock
Good strength at elevated temperature
Chloride ion stress corrosion cracking resistance
Typical applications for 330 Stainless
Furnace containers-carburizing, carbonitriding, annealing malleablizing
Muffles, retorts
Bar frame heat treating baskets
Quenching fixtures
Radiant tubes
Salt pots
Furnace fans and shafts
Conveyors
Tube hangers for crude oil heaters adn steam boilers
Heat exchangers
Flares
| Form and Condition | Ultimate Tensile Strength, ksi | .2% Yield Strength, ksi | Elongation % |
| --- | --- | --- | --- |
| Plate, hot rolled and Annealed | | | |
| Sheet, cold rolled and Annealed | | | |
| Bar, hot finished and Annealed | | | |
Values are composites for various product sizes and are not suitable for specification purposes.
330 steel offers a high level of corrosion resistance, particularly to oxidation, carburization and nitridation. In aqueous environments, the alloy's chromium content provides resistance to oxidizing conditions while its nickel content imparts resistance to reducing conditions. The high nickel also gives 330 good resistance to chloride-ion stress- corrosion cracking.
Fabrication with Stainless 330
Stainless Steel 330 is readily fabricated by standard commercial procedures. In comparison to carbon steel, stainless steels are tougher and tend to work harden rapidly. Alloy 330's rate of work hardening is comparable to austenitic stainless steels.
Stainless 330 can be welded using conventional welding processes.
| Plate | Sheet | Bars | Smls Pipe | Wld Pipe | Wld Tube |
| --- | --- | --- | --- | --- | --- |
| | | | | | |